Hello readers! I hope everyone is enjoying their summer so far.  I cannot believe how quickly it is flying by.  I intend to savor every moment of it.
The other day I was thinking about what my favorite thing is (right now) and how I could share it with you guys.  I feel the item that I am most obsessed with right now is my Fitbit.  If you follow me on Facebook you know how much I love it.  Here are some reasons why I love it so much:
Having a Fitbit makes me aware of how many steps I have or don't have.  My goal each day is to take 10,000 steps.  Some days it is easier than others.  I remember when I first got my Fitbit I thought 10,000 steps seemed like a lot.  It still is, but it was easier to achieve than I originally thought.  Each hour my Fitbit reminds me to walk if I don't have 250 in that hour.  That is pretty cool.  If 10,000 steps a day seem like too much or too little, you can change it to whatever you want.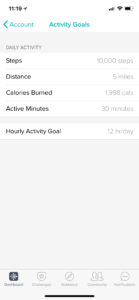 Having a Fitbit makes me also aware of how much water I drink throughout the day.  I can record when I drink 8 oz. 16 oz or 24 oz.  Drinking water for me is not a habitual thing.  I actually need to remember to drink water.  Drinking a lot of water is also intimidating for me. I have a big 64 oz container that I bring to work with me.  Very intimidating, so I also bring a smaller 8 or 16 oz water bottle that I refill when needed.  This helps me a lot and I feel that I drink the water more quickly.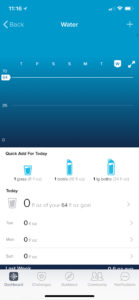 Knowing how much I sleep I get at night is a big thing for me.  I like to know why I feel so sluggish during the day, I can check my sleep movement on my Fitbit.  When I wake up and feel fully rested, I can see that too.  If my husband has a bad night sleep I can see that as well because sometimes he stirs me when he is wiggling or moving around a lot.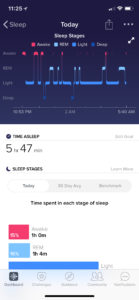 The number one thing I love most about my Fitbit is challenging friends and family.  Most of the people in my family including my 8-year-old nephew have Fitbits (they have Fitbits for kids now) and each week or weekend, we challenge each other.  This has been so much fun and it keeps us all accountable for each other because we all want to win.  I also have challenges with my work friends.  Being teachers, we walk around a lot, so it is fun to see who walks the most.  You can also challenge yourself by doing solo adventures where it seems like you are hiking through different places.   I am also part of different Fitbit groups on Facebook.  This has been fun getting to know other people around the world and doing different challenges with them.
There is a whole community feeling with Fitbit as well.  It is kind of like Facebook or Instagram where you can post your goals and accomplishments.  Everyone motivates each other.
I know many people have the Apple Watch or with just an iPhone you can track your steps, but in my opinion, having a Fitbit is the best.  (My husband has both.  At his workplace, they do monthly challenges.  It is awesome!)   So if you are interested in getting one, or if you have one let me know.  We can set up challenges to do together, or have a group of us.  Comment or email me and I will show you how we can do this together.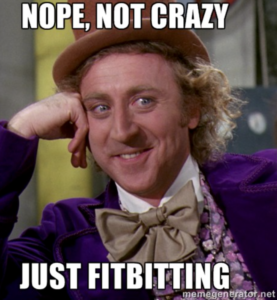 This is the Fitbit I have, it also keeps track of your heart rate, but there are many to choose from as well as different prices.  Click here to check some out!
Awaken Your Inner Self!
Carol
We are a participant in the Amazon Services LLC Associates Program, an affiliate advertising program designed to provide a means for us to earn fees by linking to Amazon.com and affiliated sites.