Living in Lakeland, Florida, we do not have many vegan dining options.  Of course, you can go to restaurants and make something vegan, but that is as far as it goes.   Fortunately for us, the great city of Orlando does, and a couple weekends ago we went on a vegan food crawl to sample some of the many vegan places Orlando has to offer. So, my husband, sister-in-law, their aunt and uncle and I, all set out for our day of healthy eating! We all ordered different items from the menu and tried each other's food.  Here was our Vegan Venture:
We started off meeting at my sister-in-law's house where we made our own juices.  They were made with spinach, kale, apples, oranges, lemon, and lime.  So delicious and a great way to start our venture!
                                
Our first stop was "Market on South."  This vegan restaurant is as described on marketonsouth.com:  "Located in Orlando's Milk District, Market of South is the current home of Dixie Dharma and Valhalla Bakery."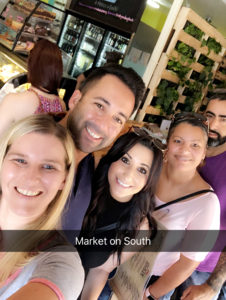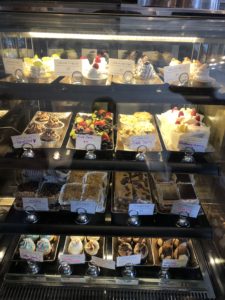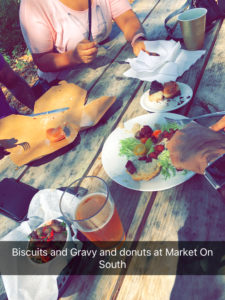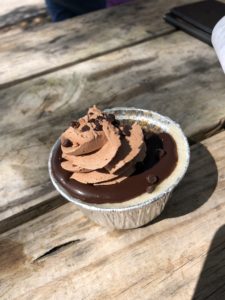 At the bakery, they have a variety of vegan doughnuts.  So, of course, I had to get one.  I sampled their Oreo Doughnut.  We also tried their chocolate cheesecake.  Both were amazingly delicious.  From Dixie Dharma we tried their biscuits and gravy.  This is a "housemade biscuit with southern sausage gravy, bourbon-maple glazed sausage, with heirloom tomatoes and frisee sage."  We could not believe it was vegan.
Our next crawl stop was "Dandelion Communitea Cafe". This cafe serves vegetarian, vegan food, and loose leaf tea.  Here they even grow some items on the menu.  They have a cute garden out front that had an abundance of Kale.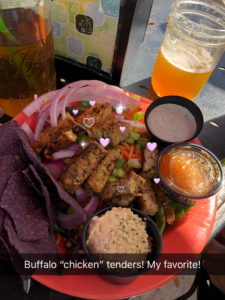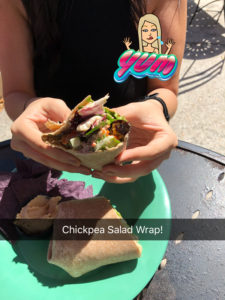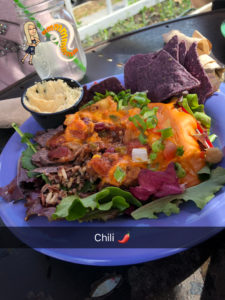 Here you can order your food in a bowl, or in a wrap.  We, of course, did both.  I ordered the Buffalo '66.  This is made with cashew-encrusted tempeh tenders, carrots, celery, red onions, with buffalo sauce and ranch dressing.  While ordering we had to ask if the ranch was vegan.  It was, we were just not used to not having to check.  This was one of my favorite foods all day.  When I was a meat eater, I would always order chicken tenders with buffalo sauce no matter where I went.  So when I saw this on their menu, I knew I had to try it.
My sister-in-law, Nadeen ordered the "Chickpea of the Sea," wrap.  This is like tuna salad, but without the tuna.  It was made with chickpea for tuna salad, with tomatoes, cucumbers, carrots, pumpkin seeds, with ranch dressing.  As you can see from the picture, this stuffed wrap was incredible.  It was filled with flavor.
Their aunt and uncle, Willie and Julissa ordered "Nachos Libre."  This was nachos with corn chips, chili, queso, and scallions.  Tasted just like regular nachos but without the meat and cheese.  We were so astonished that all this delicious tasting food was all vegan!! Love it!
Our next stop on our journey was "The District Market."  This was not just a dining place, but a little grocery and clothing shop as well.
 

The owner at this place was sweet and extremely accommodating to us.  We told him we were on a vegan food crawl and he gave us samples of his different kinds of "cheese," a sample of bacon, and salami and we tried their cold brew coffee.  All amazing.  We ordered the Cuban sandwich that he cut up into 5 equal pieces and served us all.  We ate it and drank it all before I could get a picture of it.   It was really delicious.  I did get a picture of their chocolate banana bread, which looks and tasted fantastic. We were so thankful for his attention to us.  We spent some time looking around and their different items.  We will definitely be returning to this place.
At this point, we were feeling pretty stuffed so our next stop was "Infusion Tea."  This cafe serves organic tea and vegetarian food.  We just sampled their tea.
 There were so many tea options to choose from.  This also had a little shop inside, so here we sipped our tea while our stomachs digested, and looked around.  I once again did not snap a picture of our teas, but I do plan on going back, so I will when I return.
Next stop, "Hubbly Bubbly Falafel Shop!" This place is known for their falafels and they were the best. Here they also gave us some samples of many food items.
                                               
They packed our plates with falafel, lentils, tabouli, and hummus.  We had some tahini, tzatziki, and Lilly's sauce on the side. We also had some Crispy Cauliflower and Spinach Pies for an appetizer.  This food was so filling, but we could not stop eating.  Another favorite that we will visit again.
To end the food crawl, we went to "Ethos Vegan Kitchen" in Winter Park.  On their website, ethosvegankitchen.com they explain: "The intent of Ethos is as follows: 1) to improve the diversity of vegan cuisine offerings in the Central Florida area, 2) to provide good food at a reasonable price in a comfortable atmosphere, and 3) to showcase the variety, freshness, and flavor of vegan dining."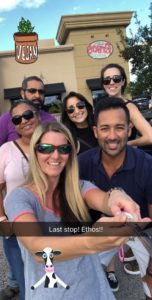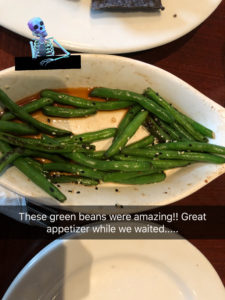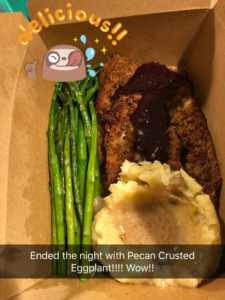 The atmosphere was pretty cool, the place is really big.  They have a huge variety of all kinds of food, and it was pretty incredible.  We ordered Crispy Green Beans as an appetizer.  It is sauteed until crisp and sprinkled with sesame seeds.  Those did not last on the table for long. I ordered Pecan Encrusted Eggplant.  Each bite of this was wonderful.  The flavor was so good, I almost did not want to share.  On their menu, it is highlighted as a favorite and I can see why.  It is sautéed and finished with red wine sauce served with mash potatoes and gravy and sautéed asparagus.  I need to learn how to make this!  Great pick for our last stop because we were full!
We all had such a great time eating all these unbelievable vegan foods.  What better way to spend a Sunday than with family and food!! We are already talking about our next Vegan Venture!
Thanks so much to Julissa for making us pick a date, and to Nadeen for setting up our food crawl!  Can't wait to do it again!
I would love to hear about different restaurants in your area that serve amazing, healthy food.  Let me know.
Awaken Your Inner Self!
Carol